Towards becoming a company trusted by all customers, and relied upon by society.
The JDC Corporation takes on the challenges, and provides the innovation needed to bring about a new era.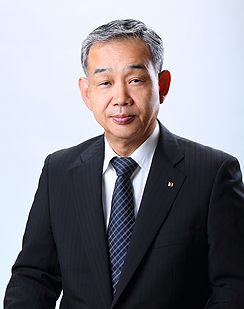 President Takeo Asakura
Our company aims to pursue a better relationship between people and the environment. We are taking on challenges in every field of construction, based on improving the Earth and creating comfortable environments, as the starting point for achieving a comfortable environment in which to live.

Moving forward, we will provide high-quality work that will bring customers peace of mind and satisfaction, by striving to further refine our civil engineering and construction technology.
 Utilizing the extensive experience and achievements we've accumulated thus far, we plan to actively pursue new businesses and we endeavor to become a company that creates an environment that provides people with culture and nature that are in harmony with each other.
OUR STANDARDS: Five Commitments of JDC
1. We always put the customer first.
Not only do we pursue reduction of construction time and improvement in quality, but we also strive for construction safety through full use of a reduced workforce, by means of automated construction and low-noise technologies.
From proposal throughout research, detailed design, construction, quality control, and maintenance following completion, at JDC we dedicate our full energy to gaining the trust and satisfaction of all customers.
2. We are designed to be a business focused on the provision of technology.
JDC leverages the experiences and accomplishments accumulated in a wide range of fields, and devotes its energy to developing unique technologies to meet the needs of modern society.
In recent years, reducing the environmental burden of civil engineering technology has become an issue on a global scale. And we have independently developed and commercialized technologies, including the "Twister Method" for recycling construction materials, a new "capillary barrier" disposal site soil-covering technology using natural materials, and unique "dynamic consolidation method" for reducing the volume taken up by waste. Furthermore, we possess advanced construction capabilities for designing structures such as large cross-section tunnels, dams and piers.
We have developed construction techniques, including; "seismic isolation technology" to protect valuable assets from earthquakes; "HACCP support systems", which are indispensable to food hygiene management; and "renewable technologies" for building inspection, repair, and reinforcement to meet the needs of a recycling-oriented society. And we are quickly putting these to practical use. Moving forward, we intend to continue to provide valuable technologies within the construction sector, to support life and society.
3. We adapt to the changing times and an IT-based society.
Today, it is clear to everyone that not only the construction industry, but the very fabric of society is changing dramatically. JDC is actively engaging with new markets and businesses in striving to strengthen its sales/technical capabilities, and to improving its planning proposal ability and price competitiveness. In addition, we are working to strengthen and streamline our organizational and sales structures, along with improving business efficiency through development of an information communication infrastructure, and an IT environment oriented to the information network era. This is so that we will be flexible enough to quickly respond to the needs of markets and societies, which change from moment to moment. We are working hard to continue to be a flexible company that can anticipate the future, and continually respond to the changing needs of our times, and of society.
4. We will act as a global citizen.
In 1992, JDC established the ER (Environment and Resources) Planning Committee. And based on our independently formulated "Action Guidelines for Environmental Conservation", we began working seriously towards environmental conservation and the effective use of resources. One example is our volunteer rainforest restoration project in Terengganu, Malaysia, which took place during five years, starting in 1994. In 1999, we presented the data that we had collected on our results to the state of Terengganu, and received a certificate of appreciation from Malaysia. And in Japan, we received the "Keidanren (Business Federation) Chairman Award" in the 5th Global Environmental Award Grand Prix.
In addition, all of our branches nationwide have obtained ISO14001 certification, which is essential to promoting environmental management. They meet the requirements of international standards. There are many things we can do as a construction company to achieve both environmental protection and social development. These include reuse of construction by-products, reducing CO2 emissions, reducing the amount of tropical wood used for plywood frames, and engaging in activities that contribute locally.
From now on we will be conscious of our role as a global citizen, and, will contribute to the creation of a comfortable environment and a recycling-oriented society, from a position of humility.
5. We strive daily for innovation, with a creative and challenge-oriented spirit.
JDC believes that it is the daily actions of our employees that pave the way for the future of our company. Individual employees set high goals for everything they do, devoting themselves to innovation on a daily basis. We are confident that the accumulation of these kinds of small daily actions will, more than anything else, be the driving force that paves the way towards a new future for our company.
In order to be a valuable company that is needed by society and trusted by all customers, each employee must daily stoke the fires of "challenge and creation", and join together as one to work towards a better future.